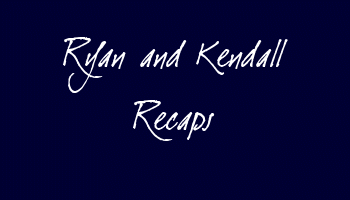 Tuesday, June 25 2002
Bianca calls Ryan, but Kendall answers the phone and hangs up on her sister. She tells Ryan that it was a wrong number and says they have to talk about their future. She says they have to talk about their future and tells him she heard Bianca say that she'd lie in order to get Kendall in jail. Bianca shows up at the Pine Cone, asking Ryan for help with JR and Kendall's lie it revealed. After Ryan leaves, Kendall goes out and bumps into Aidan at the Pine Cone. She welcomes him and asks about his job with Erica and her new penthouse. Ryan watches as Kendall flirts with Aidan.
Monday, June 24 2002
Kendall corners Anna at the Inn and the chief tells her that for her new theory to work, she'd need actual evidence. Ryan waits at the Pine Cone, putting the candles out and making a few calls as to where his fiancee is. Once she returns, she runs right into Ryan's arms. She tells him she went to the Inn to try and make things right with Chris. Kendall is very worried about ruining Ryan's life if she is convicted. He stands his ground, still wanting to marry her. They make love and as Ryan sleeps, Kendall thinks about using Aidan to get evidence on Erica.
| Story Page | Main Page |

morganrosella@hotmail.com

Ryan and Kendall are the property of Jean Dadario Burke, ABC, and All My Children. This site is in no way affiliated with All My Children, ABC, Cameron Mathison, or Alicia Minshew. It is for entertainment purposes only. Screen captures were obtained from ABC Screen Captures.