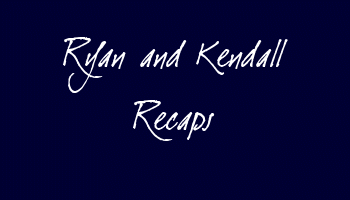 Friday, June 14 2002
Ryan is at the Pine Cone, wondering where Kendall is. He remembers telling her he loves her and her running out. He notices her perfume on the desk and sprays some on his hand, remembering much of their time together. At the cemetery, Kendall looks at Mona's grave and pulls out her cell phone, calling Ryan to come get her, as a storm is coming. He arrives and she tells him she understands she has let the past kill her future, how she has sought out love and a relationship from a woman who hates her. He says they already knew that and she tells him saving Erica's life in the fire, she thought, would be her lucky break. He agrees that Erica should have been grateful. She says even so you cannot change the fact that you can't make people love you. They talk about her running out on him, the one who has stood by her, to visit the grave of the woman who gave her away. He asks what her choice will be and she asks him if he really believes in her, if he really loves her. After a few quiet moments, he tells her he loves her hear and soul, before her he was dead inside. He needs her in his life now and always and asks her to marry him. She happily kisses him and smiles as the rain pours on them.
Tuesday, June 11 2002
Kendall goes to the Valley Inn for a drink, running into Erica. They share a few words and Erica finally tells Kendall that the reason she only sees bad in Kendall is every time she looks into her eyes, she sees the soul of Richard Fields. Ryan and Chris are bonding over Ryan's mother at the Pine Cone. Chris pulls out a ring he had given to Ryan's mother. He hands it to his son, telling him to give it to the woman he loves and never let her go. Kendall comes back to the Pine Cone and begins to pack as Ryan shares with her about his mother. He asks what she's doing and she tells him Erica was right, she is no good. He guesses correctly she went to visit Erica and tries to get her to stop. She says she was is no good for him or anyone else, she was born bad. He asks if that's true then why does he love her so much. Taken aback, she runs out.
Monday, June 10 2002
In the Pine Cone Ryan sleeps as Kendall phones Trey. She tells him she can no longer keep Ryan in the dark and from now on, Ryan is a part of her defense team. She finishes by saying that if Trey does not like that, she'll find a new lawyer. She notices Ryan smiling and knows he is only pretending to be sleeping. She pretends to be telling Trey why she's so adamant about Ryan being involved. Liking what he's hearing Ryan hangs the phone up and is in the midst of whisking her to bed, but stops when he remembers she told Trey that he snores. They make a few jokes about snoring. Laying in bed together, he says it feels as though they are the only two people in the world, but that can only last until morning. She informs him that Trey is out of town, so it can last a few days longer, just the two of them. She suggests they go to Mount Evangeline and lay in the sun. He elaborates on the plan, saying they can start a fire at night. They both then decide fires would not be a good idea. He proceeds to tell her they can lay in the moonlight and he'll tell her the story of the escaped mental patient with the hook for a hand. There's a knock on the door and Ryan jokes about it being the man with the hook. Kendall pulls him closer, saying if they're quiet maybe whoever it is will go away. No luck, the knocking continues and Chris calls in for them. He tells Ryan he has something important to share with him. He asks Kendall to go, but Ryan says that Kendall can hear anything Chris has to say. Kendall agrees to give them their time and kisses Ryan before going.
| Recaps Archive | Story Page | Main Page |

morganrosella@hotmail.com

Ryan and Kendall are the property of Jean Dadario Burke, ABC, and All My Children. This site is in no way affiliated with All My Children, ABC, Cameron Mathison, or Alicia Minshew. It is for entertainment purposes only. Screen captures were obtained from ABC Screen Captures.