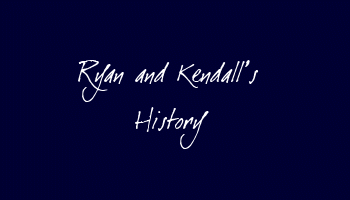 Kendall Hart returned to Pine Valley when Erica, her mother, called her in the help put her in jail. Immediately upon moving into the Pine Cone Motel, Ryan barged into Kendall's room when she was playing her music too loudly. They began a relationship that consisted of sparring and glances. They fought their attraction as she sought to bring down her mother. Ryan has had to deal with the death of his wife, Gillian, and the revelation that Chris Stamp is actually his father. Surprisingly, the normally brash and unpleasant Kendall has been supportive of him in these times.

They soon came to an understanding and decided that they would be friends. Not long after, not having any money, Kendall moved into Ryan's room. Only problem was that she did not tell him beforehand. It took the news well and allowed her to stay, as long as she started looking for a job.

With the help of baby sister, Bianca, Kendall took up residence in Fargate House. Ryan was not pleased to see her go, though he tried not to show it. At Myrtle's Kendall again showed her softer side by befriending Chris, even though he made no secret of his not liking her.

On one particular night, Kendall was in the mood to paint the town red. Her desired companion? Ryan, of course. The Lady in Red attempted to get him to cut loose for the first time in a while. He berated her and told her to leave and never come back. Feeling bad, he opened his door to go look for her to apologize. His search was not long, he found her standing at his doorstep, about to cry. He went to stop her, but she tried to run. Catching her he soothed her and they nearly shared a kiss. Stopping themselves, he explained to her that though she was smart and beautiful, he was not over Gillian.

Kendall again showed her sweet side by finding a lost Colby and taking care of the young girl. This did not go unnoticed by Ryan, who smiled at the sight of Kendall and the child together.

Kendall also snagged herself a job at SOS, where Ryan was a sometime bartender. The sparring continued and they also kept fighting their attraction. Noticing the chemistry between them, Chris gave Ryan to baseball tickets. Ryan did invite Kendall and they were on their way to the ballpark when they found the game was rained out. No worries, they went anyway and feasted in her car on corn dogs, popcorn, candy bard, soda, and cotton candy.

These good times were not to last, though. She lied to him about going to work at Enchantment. Erica was plotting to get Revlon to hire Kendall and send her to Paris. Kendall was hoping to stick it to her mother, as well as prove she was just as smart as Greenlee. Ryan knew it was a trap and went to warn her.

She came clean and explained to him that she thought maybe her mother really did believe she could do this and she had to take that chance. He again told her he thought it was a set up. Realizing he cared about her, she asked him if it was true. Confirming it, they shared their first kiss. Slow and sweet at first, it soon erupted into passion and lust.

Getting frightened, Kendall pulled away and ran. She told Ryan he was just like the other men she had met in her life. He then told her that she was almost sweet and that he liked her just the way she is. He did not see her as a fixer upper or a charity case.

| Story Page | Main Page |

morganrosella@hotmail.com

Ryan and Kendall are the property of Jean Dadario Burke, ABC, and All My Children. This site is in no way affiliated with All My Children, ABC, Cameron Mathison, or Alicia Minshew. It is for entertainment purposes only. Screen captures were obtained from ABC Screen Captures.