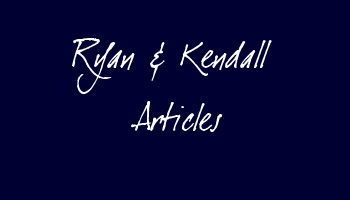 Soap Opera Update
Love Match or Mismatch?
May 21 2002
AMC's Ryan and Kendall
Couple Rating: 9/10
Viewers were wondering if All My Children's bad boy-turned-hero Ryan would ever get over the loss of his beloved Gillian. Then, like a strong wind, sexy, sultry Kendall breezed back into town. She showed up to — what else? — cause trouble for her mother Erica. Then, Kendall stuck around Pine Valley in order to, among other things, share flirtations with the grieving Ryan.
Ryan's had a lot to deal with lately. In addition to losing Gillian, Ryan is adjusting to the fact that Chris is his father! Ryan is drawn the beautiful and dynamic women (Remember his brief time with Greenlee?), so Kendall is the perfect match for the handsome young man. In turn, Ryan has a lot of goodness in him, and he could be just the man to tame wild Kendall, a woman searching for her mother's acceptance. Whether these two are frolicking in bed or going to a ballgame, they're a dynamic twosome.
| Library | Main Page |

morganrosella@hotmail.com

Ryan and Kendall are the property of Jean Dadario Burke, ABC, and All My Children. This site is in no way affiliated with All My Children, ABC, Cameron Mathison, or Alicia Minshew. It is for entertainment purposes only. Screen captures were obtained from ABC Screen Captures.