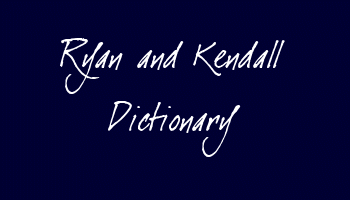 F
Food of the gods
A corn dog and cotton candy.
O
ODK
Operation Dump Kendall. Erica's plan to rid Pine Valley of her older daughter.
P
Picnicing
Not technically dating, but close to it. Describes Ryan and Kendall's relationship around April 2002.
Pine Dump
Name for the Pine Cone Motel, where both Ryan and Kendall have resided.
R
Ryndall
Name combination for Ryan and Kendall. Pronounced Rhine-dull.
S
Six-pack
Kendall's nick name for Ryan, given to him because of his washboard abs.
A Slice of Heaven
A night spent at the Valley Inn, complete with room service and video games...And a nice comfy bed, not necessarily used for sleeping. Name of site derived from Kendall's use of this phrase.
T
Tiny Terror
Kendall's nickname for her mother, Erica.
| Library | Main Page |

morganrosella@hotmail.com

Ryan and Kendall are the property of Jean Dadario Burke, ABC, and All My Children. This site is in no way affiliated with All My Children, ABC, Cameron Mathison, or Alicia Minshew. It is for entertainment purposes only. Screen captures were obtained from ABC Screen Captures.