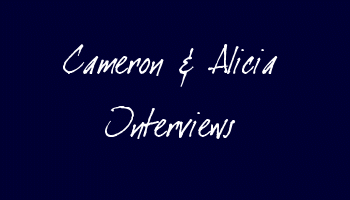 Staying Put
By Pat Sellers for Soap Opera Weekly

Cameron Mathison rode out the storm at AMC - and now he's ready to settle down.

The state-of-the-art Reebok Sports Club on East 67th Street is just a minutes job from the All My Children and One Life To Live studios in New York, and both casts are well represented on the club's membership roster. On this particular day, the elevator doors open at the lobby level and off walks Robert S. Woods (Bo, OLTL). And entering the lobby just in time to catch the elevator is this exercise allergic reporter's reason for being on the premises: AMC's Cameron Mathison (Ryan).

We ride together to the second floor restaurant and order two salads. They arrive consisting solely of greens and hard-boiled eggs whites — no chicken, no bacon, no avocado, no cheese, no taste. No matter. Mathison's still sold on this luxe sports complex, which carries a hefty monthly price tag. At least, he says, he gets his money's worth, what with swimming and playing basketball and working out three to four days a week, down from five. Not so with some of his cast mates. "Josh (Duhamel), Rebecca (Budig), Mark (Consuelos) and Michael Knight (Leo, Greenlee, Mateo and Tad) are all members, but they don't come here. Rebecca runs a lot; Josh has got a gym in his building. Mark used to be here a lot; I guess he goes somewhere else. Michael maybe works out at home."

Mathison does not. "Too many distractions," he says, a subtle smile referring to his roommate of eight months and fiancee of two, model Vanessa Arevalo, who, incidentally, he met in his very building four years ago. For this perpetual peripatetic, gyms have always been a venue for picking up more than weights.

"Whenever I was single and on the road, or modeling in Europe or whatever, the first thing I'd do when I got to a city was go to a gym. It was a great way to meet people. You could hook up with some guys for a few beers. Or," he grins, "you could meet a woman and have a nice romantic evening. That was usually the plan."

The connection with Vanessa was premeditated. "She was working out with a trainer, and I went over and asked him some ridiculous question just so I could get close to her and try to have a conversation." Since each was involved with someone else at the time, their subsequent exchanges resulted only to "harmless flirting." But a couple years later, both now single, they reconnected in Los Angeles, where she had moved. "The first year of us going together we were bicoastal. Then she moved back to New York — I hope mostly because of me, but also because she works a ton more here." The 5-foot10-inch stunner is, he says, "a lot more beautiful once you get to know her."

For Mathison, who had never lived with someone before, the adjustment to shared quarters, even in his small one-bedroom, "couldn't have been easier. She's the easiest person to get along with, a lot quieter, calmer, more peaceful than me. On my days off, I'm running around like a maniac. She's perfectly comfortable curling up on the couch with a book."

All he had to do was add a couple of armoires to accommodate all of the clothes — most of which, he sheepishly admits, are his. Mathison developed his taste for designer duds in his modeling days and overindulged a bit when his budget expanded after joining AMC. "Actually, I may marry her for her closet space — she's got a beautiful three-story condo on Santa Monica that we're fixing up together." There are no immediate plans to expand the New York quarters. "I just wish I had a bigger kitchen for her — she's a great cook." Having formerly dined on protein drinks with a side of Cheerios at least three times a week, Mathison is now feasting on meals flavored by her Mexican-Filipino heritage.

Different in background and temperament, they jibe when it comes to fitness and sports. "I proposed to her on the top of the mountain while we were skiing in Vail," he shares. There was, in other words, plenty of ice on the slopes that day. Mathison bought a pear-shaped diamond in New York's diamond district. "I went back five or six times, and each time I learned more and more about clarity and color and shape and proportions. I was a lot more nervous about buying it than I was about giving it to her. Wheww! Let's just say I got a few free flights for [charging] it."

On a beautiful sunny day over Christmas vacation at his parents' condo in Vail, Colo., he took her to the isolated 11,700 foot summit on the pretext of wanting to snap her photo. Instead, he presented her with the ring, to which his brother, Scott, cannily suggested her tie a red ribbon in case he dropped it in the snow. But all that fell were Vanessa's tears. Lots of them. "After she just about passed out, she started crying. When we walked into the restaurant at the bottom of the mountain, where my family was waiting, she was crying so much my dad thought she broke her arm or something."

Their wedding reception will be held in that very same restaurant, following an outdoor ceremony that's planned for sometime this summer. But between now and then, Mathison's life, as ever, is crammed with activities. On March 7, he heads to the Paralympic Winter Games in Utah to serve as a spokesperson, on the same site as the Olympics and immediately following the Games. "They're amazing athletes and compete in several different categories: single amputees, double amputees, paralysis from the waist down. One of my good friends, Marlon Shirley, who lost his leg from the knee down in a childhood accident and skis on a prosthetic, is only one second behind Maurice Green, and able-bodied skier who's the world record-holder for th 100-meter dash.

Anyone familiar with Mathison's own background finds his athletic achievements equally remarkable. Diagnosed at 2 ½ with Legg-Perthes disease, a degenerative bone condition in the hips, he spent three and a half years on crutches wearing a steel A-frame brace on his legs. "I learned to ski the same year I learned to walk." It was too late to catch up with his hockey-playing pals in his native Canada, who, by age six, "were practically playing pro." But hockey and tennis are the only sports in which he does not excel. He's an ace basketball player, an extreme skier, an intense triathlon biker/runner/swimmer. And as for golf...

"I'm the newest member of the Celebrity Players Tour," he says proudly. "It's a real tour with mostly athletes, awesome guys like Dan Marino, John Elway, Jim McMahon and Jack Wagner (ex-Frisco Jones, General Hospital). I get to travel around the country, playing these great courses in a professional-tour-type atmosphere."

Mathison also enjoys golf outings with his best buddy from the show, Duhamel. "We hang out all the time, go on trips together." In fact, Mathison and Arevalo and Duhamel and his girlfriend Kristy Pierce, are a frequent foursome when the L.A. based Pierce is in town.

Mathison says he's the happiest he's ever been — which wasn't the case several months back, primarily for professional reasons. "There was a long stretch of time when I really wanted to get off the show. There was no doubt I was leaving when Esta (TerBlanche, ex-Gillian Lavery) left."

Fortunately, he says, protracted contract negotiations provided enough time for our new head writer, Richard (Culliton), to start turning things around for my character and for to say, 'Wow, I like where this is going.' If I had turned them down right away, I wouldn't have given it a fair chance." And he would have missed out on a very juicy storyline: the reveal that Chris Stamp is Ryan's father.

"Now it's very obvious to me that Richard likes to write for Ryan; he writes him with energy. Ryan's a lot angrier now. I don't know if the fans like it, but it's much more interesting for me to play. Obviously, I miss Esta, miss her as a friend, miss Ryan and Gillian more than I thought I would. But I still talk to her all the time, which is cool.

"And I like working with Alicia Minshew; I'm sensing something with Kendall. Maybe by the time this comes out it will be more clear to all of us, including me, what my situation is with her. And Jack Scalia (Chris) rocks."

Content as he is, Mathison still feels he owes it to himself and his career to "at some point explore other options like prime time, maybe while I'm still on the show. Or maybe take a break, and if it turns out to be too tough out there, to come back. But I have such a great, great thing going on professionally and personally, all I can hope for in the grand plan is, ultimately, to just be as happy as I am now."

| Library | Main Page |

morganrosella@hotmail.com

Ryan and Kendall are the property of Jean Dadario Burke, ABC, and All My Children. This site is in no way affiliated with All My Children, ABC, Cameron Mathison, or Alicia Minshew. It is for entertainment purposes only. Screen captures were obtained from ABC Screen Captures.