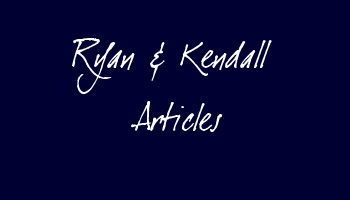 Entertainment Tonight Online
April 29 2002

Sex, Soap Opera Style!
ET has an exclusive behind-the-scenes look at the steamy, first love scene between "All My Children" stars CAMERON MATHISON, who plays the hunky Ryan Lavery, and ALICIA MINSHEW, who stars as SUSAN LUCCI's bastard daughter, Kendall Hart.
As the ET cameras rolled, the two actors stripped down to the bare essentials and hopped in bed to film the lusty encounter.
"I haven't done it in daytime [TV]," Alicia admitted of making love in front of the entire crew. "I worked on an independent film where I had to do a very risqué scene, so I am comfortable having a million people around and not wearing many clothes."
Mathison's character, on the other hand, has slept with half the women in the fictional town of Pine Valley where the ABC soap opera takes place, so it was all in a day's work for the Canadian import.
"He is very fun and makes me feel very comfortable," Alicia said of her studly co-star. "Everyone is very cool here, so it is relaxed."
And while the final version of the scene is hot enough to fog up your contact lenses, the process itself was not. The actors had to wait as the lighting director perfected the mood, then there were the retouches to Alicia's makeup, and notes from the director to the actors as to which hand went where at what moment.
During a break in the taping, ET couldn't resist asking Alicia if her boyfriend knew what she was up to at work that day. And she answered honestly, "I don't tell him every single time we kiss, but he knew about (the love scenes) today and tomorrow."
To watch as "All My Children"'s hottest new couple hook up, catch tonight's edition of ET!
| Library | Main Page |

morganrosella@hotmail.com

Ryan and Kendall are the property of Jean Dadario Burke, ABC, and All My Children. This site is in no way affiliated with All My Children, ABC, Cameron Mathison, or Alicia Minshew. It is for entertainment purposes only. Screen captures were obtained from ABC Screen Captures.