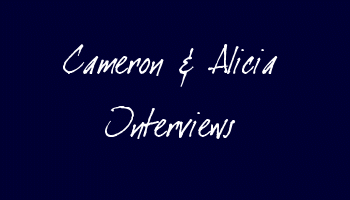 Trouble Returns to Pine Valley
Soap Opera Update
May 7 2002
Bt Sheila Steinbach

Alicia Minshew tells all about herself and AMC's Kendall Hart!
Who is Alicia Minshew and why does she feel like everything is going her way? That's simple! Minshew is currently having fun playing the role of All My Children bad girl Kendall Hart, who has returned to Pine Valley and is up to her old tricks.
A Star Is Born
A native of Fort Lauderdale, Florida, she admits that she always knew she wanted to be an actress when she grew up... and she followed her dream.
"I was one of those crazy kids, very dramatic, very funny, and I always loved to be on stage. I danced for many years, too, so that gave me the desire to perform. Then, when I was in high school, I was in this production and I couldn't give acting up," she laughs. "So, I started doing some local theater and some commercials. I got the knack of being in front of the camera from the commercials and it kind of escalated from there. I got my SAG card and then said to myself, 'You know you're serious about this, so you need to be in New York.'" Minshew moved to New York five years ago and has been living her dream ever since. When she first arrived in the Big Apple, she landed several big commercials, including Coppertone and Details magazine.
"I made some money so I could take some acting classes and audition and do it the right way. I also did some theater, which was good because it kept the juices flowing," she explains.
The Time Was Right
Minshew also booked a role in a film called "Game Day". Afterwards, she continued studying, acting and auditioning. Her life took another turn when her agents sent her to see Judy Blye Wilson, AMC's casting director. Wilson brought her in several times to audition for different roles. "I love her, she's a blessing," says Minshew. "She brought me in many times for different roles and she told me that some day the right role will come up for me." Her time finally came when Wilson called her in to audition for the part of Erica's daughter Kendall... and it was the right role!
"I tested with Josh Duhamel (Leo). He was wonderful, so natural, so much fun but later I thought, 'No way did I get it!'" But she was called back again and again tested with Duhamel and got the role. Minshew admits that she had never watched AMC, didn't know the character, and to top it all off, she was taking over a role that had previously been played by Buffy's Sarah Michelle Gellar.
"I know she was fabulous and did a wonderful job," she says about her predecessor. "I screentested on a Thursday, found out I got the part on Monday and started on Tuesday. They handed me a stack of five scripts," she laughs. "I told them I need to know who Kendall is? They filled me in on some background, I did some research and I've been learning from anybody who knows the character of Kendall."
One person who really knows the character is Susan Lucci, who plays her mother. "Working with Susan is wonderful; I've been learning a lot from her," says Minshew, smiling. "I just feel so blessed. I also get to work with Cameron (Mathison, Ryan). We hit it off immediately. What's not to like about him?" she asks. "Everyone has been wonderful to me."
What's Ahead
So, who is Kendall and what is her relationship to Ryan?
"Kendall is a survivor. As far as her relationship with Ryan, I think something's going to happen. They're definitely attracted to each other, no doubt about it," she laughs. "I think in Ryan she sees somebody who she can actually relate to. He's the one person who has listened to her and has given her a certain amount of sympathy that she needs. She's very needy," says Minshew laughing. "She can relate to him because he has family issues and she has family issues. But, he calls her on everything. He catches her in everything, and as much as she hates it, she likes it, because he gets to her in a weird sort of twisted way."
What's ahead for the girl who's always plotting against Erica and never seems to get what she wants?
"I'd like to see Kendall definitely connect with at least one guy — if not Ryan, than somebody who she can be a partner in crime with, cause a little trouble and have a little fun with," she says, smiling. "Part of her needs someone who has an edge to them. She needs a friend, or a lover; someone she can relate to. I think that, in time, it will happen."
How about the return of the devious Del Henry to pick up where he left off with Kendall?
Note from A Slice of Heaven Administrator: HELL NO!!! Keep Del far, far away!
| Library | Main Page |

morganrosella@hotmail.com

Ryan and Kendall are the property of Jean Dadario Burke, ABC, and All My Children. This site is in no way affiliated with All My Children, ABC, Cameron Mathison, or Alicia Minshew. It is for entertainment purposes only. Screen captures were obtained from ABC Screen Captures.