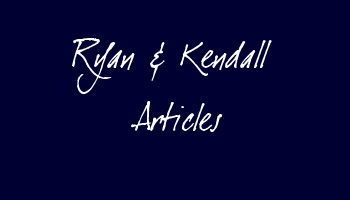 Alicia Minshew Shorts

Soap Opera Digest
ABC Gossip
March 12 2002

Vice Squad: A smoking mishap made Alicia Minshew (Kendall) the butt of on-set jokes during her first days on the soap. She reports, "I think it was my second day. They had me running around in a towel, while holding a cigarette. I took one hit off of it and because I'm not used to nicotine, I felt high. It was like I was on another dimension. I completely forgot my lines, and I blurted out, 'F— !' I was so embarrassed, but the entire crew just laughed. The director, I believe it was Conal [O'Brien], said, 'Well, we know that you weren't raised by nuns. You're going to fit in just fine.'"

Soap Opera Digest
Round Up
March 19 2002

If you could switch soaps, where would you go and why? Who would you play?

I would never want to leave All My Children, but if they forced me into it and put a gun to my head... sorry, ABC, but I would go to Days of Our Lives. ...I'd be Hope for a day just to hang out with Bo. Then, I'd come right back to All My Children.

Style File
Soap Opera Weekly
March 19 2002

With which celebrity would you like to go clothes shopping?

Sarah Jessica Parker. She dresses very sexy and very fun. She can clean up really nice with her hair done and a beautiful gown, and then the next time you see her she has curls out to here and a little miniskirt. Shoes make an outfit, and she always has great shoes. I love what she wears on Sex and the City. I'm not very conservative."

Like Mother, Like Daughter?
Soap Opera Weekly
April 16 2002

All My Children fans have had a case of double vision since Alicia Minshew assumed the role of Kendall — she's the spitting image of her on-screen mom, Susan Lucci (Erica).

"I never saw it until I watched us next to each other in scenes," muses Minshew. "Lately I've had a lot of people — even family members — say , 'You look like Susan Lucci.' My own mother saw it, and I look like my mom. She kind of looks like Susan."

Before being cast on AMC, Minshew was mistaken for another famous beauty. "When my hair was curlier and my face was fuller I used to get 'Felicity' all the time," she says, smiling. "I don't see it now. I was three years younger, her show was huge and we had the exact same hair. I was like, 'Really?' I love Keri Russell. She's so good. But I never in my life got Susan. I don't know how she feels about it, but I feel great."

Soap Opera Digest
ABC Gossip
April 30 2002

Maxi-ed out: "I seem to be known as the feminine-hygiene girl," chuckles Alicia Minshew (Kendall). "Always maxi pads was one of my first big [commercials]. So, people would say, 'Oh, are you the maxi pad girl?' I was like, 'Yes, that's me.' I did one for birth control pills. I somehow got plugged into the whole feminine-hygiene thing. My agent calls me Crotch Woman. I say, 'Thanks, that's something to proud of.'"

Soaps In Depth
In Depth Report
May 14 2002

Do Love Scenes Sometimes Get Too Hot to Handle?

When slipping underneath the covers with AMC's absolutely sexy Cameron Mathison (Ryan), just what is an actress to do? "I actually just did our first love scene," Alicia Minshew (Kendall) recalls of her and leading man Mathison's recent on-screen romp, "and I have to tell you that we were laughing the entire time! We had so much fun doing [the scene]. It was so much fun. I'm sure the viewers will see what a blast we had!"

Soap Opera Digest
Information Station
May 7 2002

What's your favorite designer?
"I have very much been into BCBG clothing. They have nice, clean lines that fit the curve of a more petite woman. I had to find a dress, and I could not find any dress under the sun that fit me because I'm small; I'm a size 1. And then I found the most beautiful, purple BCBG dress that just fit me in every nook and cranny of my body. So, I was addicted."

What product can you not live without?
"Kiehl's lip balm. It makes my lips completely moist, glossy and soft all the time. I put it on when I wake up in the morning, before I go to sleep and over my lipstick when I go out. And probably my Aveda leave-in conditioner. When I get out of the shower that's the first thing I do to hold my curls in. I put that in and let it dry that way."

Is your hair naturally curly?
"It is. It's much curlier than the way we do it on the show. It's like [FELICITY's Keri Russell's] hair. Curly, curly hair. It's still curly on the show, but they soften it to make the curls a little bigger."

Soap Opera Digest
Round Up
May 21 2002
What is your best diet/health secret?

"One major thing is drinking lots and lots of water. It keeps your body lean and energetic. I'm very much into fitness because I danced for many years when I was doing musical theater."

| Library | Main Page |

morganrosella@hotmail.com

Ryan and Kendall are the property of Jean Dadario Burke, ABC, and All My Children. This site is in no way affiliated with All My Children, ABC, Cameron Mathison, or Alicia Minshew. It is for entertainment purposes only. Screen captures were obtained from ABC Screen Captures.