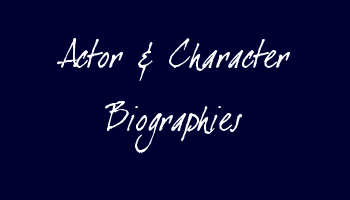 Cameron Mathison joined the cast of All My Children in January 1998 as Ryan Lavery. He was born and raised in Canada and attended McGill University in Montreal. He graduated with a 3.65 GPA and a Bachelor of civil engineering. But the acting bug hit and made his film debut in 1998, in 54 with Mike Meyers and Salma Hayek. On television he has appeared on F/X The Series and the made-for-television movie Any Motherís Son, alongside Bonnie Bedelia. In his first year at All My Children he received the Soap Opera Award for Outstanding Newcomer. He enjoys sports and is an excellent golfer and skier. In his free time, he also is an amateur photographer. He plans on marrying his model fiancee, Vanessa in summer of 2002.
Fun Facts to Know and Tell:
- They call him Snaps, because he removes his shirt at fan events.
- He hangs out with Josh Duhamel (Leo) off-set.
- He auditioned for the role of Casey on the now defunct Sunset Beach.

Twenty-seven year old Alicia Minshew assumed the role of All My Childrenís Kendall Hart on January 7 2002. Since then she has made a mark as Erica Kaneís problem child. Born in Plantation, Florida, Minshew began modeling in her home state. It was there that a New York agent told the Italian/Irish beauty that if she was serious about her career, she needed to move to New York. With her experience in modeling and dancing, she made two independent films. Game Day co-starred comedian/author Richard Lewis. Hit and Runaway co-starred Dawsonís Creek actor and former As the World Turns star, Kerr Smith. Minshew also completed a commercial and voiced the claymation version of Shannen Doherty in an episode of MTVís Celebrity Deathmatch.
Fun Facts to Know and Tell:
- She resembles her mother.
- Though single, she is involved with someone. He is not an actor.

Note: If you ever get the chance to meet Alicia, please take it. She is so sweet and genuine, you canít help but adore her.

Ryan Lavery first arrived in Pine Valley in January of 1998. Since then, the character has been married twice - to the same woman. Ryan first worked for Liza Colby at WRCW. She paid him to marry the Princess Gillian Andrassy. She wanted a green card, and they both thought the other was rich. It was discovered both were poor and a series of bad events followed. Ryan and Gillianís relationship was tumultuous, to say the least. When not with Gillian, Ryan worked to become a respectable citizen, selling ad space for WRCW. He was arrested and tried for raping Kit Montgomery, even though his brother Braeden was guilty. He and Gillian later divorced and he began to discover feeling his friend, Hayley Vaughn. His next endeavor was an internet company that granted people their fondest hopes, wishes, and dreams. Incredible Dreams.com was rocky and while starting it, Ryan became involved with Greenlee Smythe in nothing more than a sexual relationship. Soon, though, Ryan and Gillian were reunited. They married and were about to begin their wedded bliss when a case of mistaken identity caused everything to crumble. Gillian was shot in the head and killed, her heart donated to Brooke Englishís daughter. Since then, Ryan moved into the Pine Cone Motel and has had meaningless affairs with Liza and her half-sister Mia. In February on 2002 he learned that his father was actually FBI agent Chris Stamp. The arrival of Kendall Hart is also sure to stir things up for Ryan.

Kendall Hart was conceived out of rape when her mother, Erica Kane, was fourteen. Her adoptive parents gave her anything she could have ever wanted. However, upon learning that she was adopted, she sought her birth mother out. The revelation of her being Ericaís daughter was not well received. Kendall proceeded to wreak havoc throughout Pine Valley. She did almost every evil, malicious thing in the book to get to her mother. It seemed as though they had patched things up, Kendall was even in her motherís wedding to Dimitri Marick. Kendall left town with Del Henry and was not heard from again until January of 2002. Erica was on trial for the murder of Mary Frances Stone and called Kendall in to help her. True to form, Kendall showed up to help put her mother in jail. Since that failed, she has been busy coming up with other ways to best Erica. Both are now pitted against each other, with Greenlee Smythe in the middle, working at Enchantment. Kendall was living at the Pine Cone Motel, where she met Ryan Lavery. The two were constantly sparring and trading barbs. Now, which sister Biancaís help, Kendall is boarding at Myrtleís with Ericaís new love, Chris Stamp. As she and Ryan get closer to a romantic relationship, he discovers that deep down there is a nice person inside Kendall Hart.
| Main Page |

morganrosella@hotmail.com

Ryan and Kendall are the property of Jean Dadario Burke, ABC, and All My Children. This site is in no way affiliated with All My Children, ABC, Cameron Mathison, or Alicia Minshew. It is for entertainment purposes only. Screen captures were obtained from ABC Screen Captures.